Long, luxurious weekend in Beijing with the kids.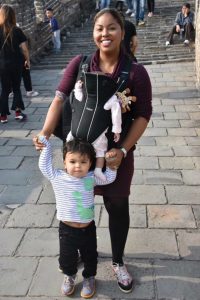 Beijing, formerly known as Peking, is the capital of the People's Republic of China (PRC), and just a short 3 plus hour flight from Hong Kong. Even though we currently live in Hong Kong, I had never been to the "mainland" (my husband has been numerous times for business), so we decided to pop over during the recent holidays for a quick getaway with our two kids. Top in my list for this trip was doing a bit of sightseeing comfortably and safely (I've learned less is more when traveling with very young ones), and staying in a beautiful and centrally located hotel.
Just a short background in case you didn't know my two kids, I have a daughter, Grace, who is only 2 months, and a son, Hunter, who at eighteen months is at that toddler stage where he can go from nice to screaming maniac in 10 seconds flat. Keeping in mind Hunter's temperament, I narrowed down what I wanted to see to three things, Tiananmen Square, Forbidden City, and of course forever on my bucket list, the Great Wall of China!
Thanks to China's notoriously chaotic and crowded air space, we arrived super late to The Ritz Carlton in Beijing, where we were greeted by a sympathetic and friendly front desk, and checked into an enormous suite! The next day, the staff arranged for Hunter to "check-in" to their Ritz Kids Club, where he received a booklet filled with colouring sheets, crayons and a bracelet that entitled him to FREE ice cream!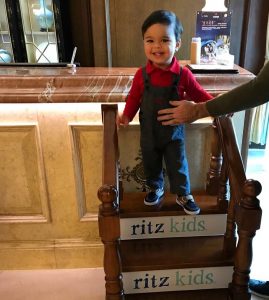 They also set up a tent in our suite, and brought him his own kid-sized robe, slippers, toiletries, and toys! He was so thrilled to be receiving all of this attention, and we were happy at how he was being welcomed as a "special" guest of the hotel.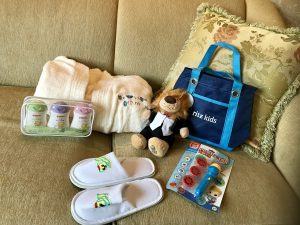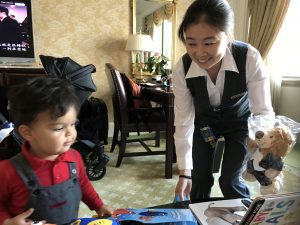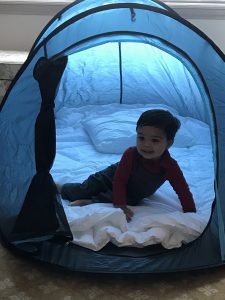 We stayed close to the hotel for the first day given that we arrived so late, and from our experience when traveling its good to give your kids some down time to adjust, so we checked out the mall right across the Ritz Carlton and then went for a late afternoon dip in their beautiful indoor pool.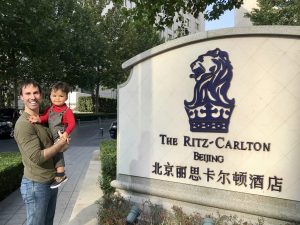 The next day we arranged for a private car and driver from Beijing Discovery Tours to pick us up at the hotel and take us to do some sightseeing. The car turned out to be more of a new and luxurious van which was perfect for the four of us. We set off towards Tiananmen Square and Forbidden City, but as we approached our driver asked us if we had our passports?! We left them at the hotel and apparently you can't go into the actual square without them (travel tip for you all). I wasn't too upset as I knew we would be back. Also since it was "Golden Week" and national holidays in China, the place was ridiculously packed. We thought we would take the strollers out and walk the perimeters, but once we arrived there and saw the mobs of people, we decided to just let the driver take us around for a bit in the car instead, which was honestly perfect for us (me), as I hate crowds.
We set off to the Great Wall of China which would be about a two hour drive, and just in time for Hunter's nap (another travel tip). My husband has been before and he recommended going to the Mutianyu section which was further away, but would be a better experience as it would be less crowded and we would therefore have better pictures. We arrived safely and stopped at the restroom right at the entrance. There is a separate changing table area which I was impressed to see, and the bathrooms were not as gross as I thought a public facility getting tons of traffic would be. There were western and the toilets where you squat (which is popular in China), but don't forget to bring your own tissue or baby wipes!
On the way to the wall, you will pass a ton of vendors selling every and anything, plus a good selection of restaurants. There is a bus at the end of this mini "village" that takes you on a short ride to the bottom of the pathway to the wall. From there you walk up a semi-steep hill, and then take a scenic cable car ride up. For those of you with slightly older kids than us, there is also an opportunity to do a toboggan ride down which we heard was a lot of fun!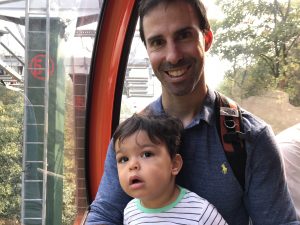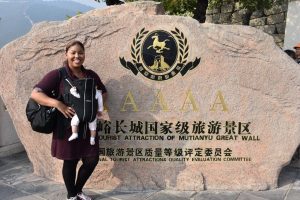 Once at the base of the actual wall, there is a short step of stairs up, then a very narrow archway and steps down that you have to go through before you're on the wall. It was a bit nerve-wracking as I had my daughter on a baby carrier and the steps were a bit steep going down, but we made it. You can take a small umbrella stroller if you wanted to, but just be aware that it would be a two person job at some points, and you will have to be a bit patient and assertive to let the crowds part for you.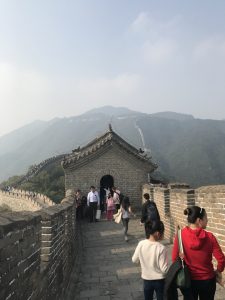 Once we were on the Great Wall, it was definitely time to take a moment to soak it all in and realise, wow you are actually here! It's absolutely stunning and an experience I will never forget.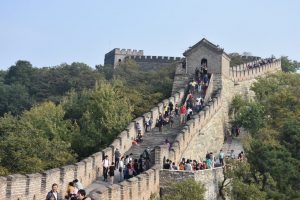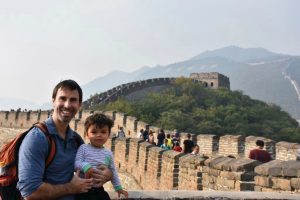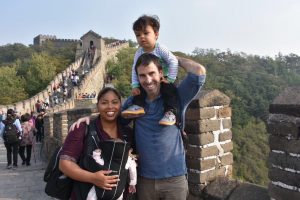 Xoxo,
Helen