Hong Kong 101: Review of Craftsteak
Stop by every Tuesday and Thursday when I'll share a new tip or some of my favourite things in Hong Kong!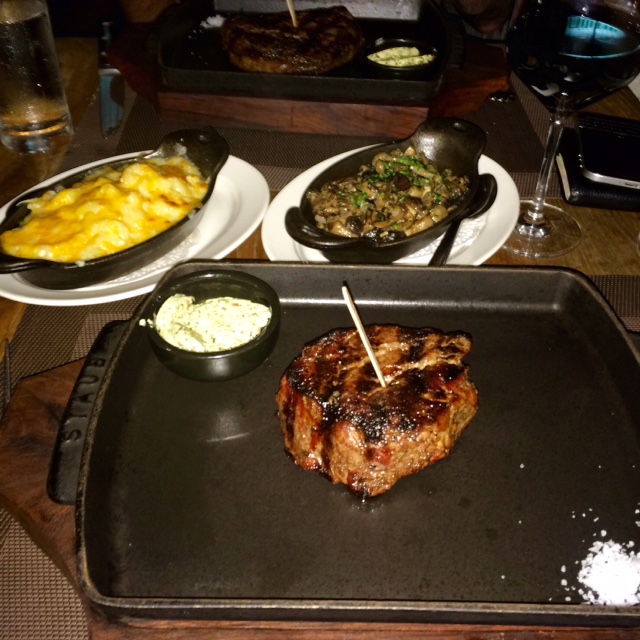 Having been in Hong Kong for a few weeks now this second time around, I've had my fair share of steaks & one of my favorite places is definitely Craftsteak!
Craftsteak distinguishes itself by offering open fire cooking on a custom made charcoal grill, offers a nice selection of wonderful sauces, and creates a intimate and fine-dining experience with its lighting and selection of meats and wines from all over the world.
This particular Monday, I had the filet mignon & my love had the ribeye. Both of our dinners were great, but if you're deciding between these two cuts of meat, go with the filet as my love thought his might have been a tad over cooked (ordered medium rare) & he thought mine was juicier — which it was!! For our sides we ordered the baked macaroni and cheese and sautéed mushrooms. Both were seasoned quite well, and I knew the macaroni and cheese was good when my usually health-conscious partner couldn't stop raving on how good it was.
Another amazing thing in Hong Kong is Super Monday's. On Monday's in Hong Kong certain restaurants will offer 2 for 1 main courses. It's a great opportunity to try out a new restaurant or go to one of your favourites and save a little extra cash for the weekend!
Craftsteak is in SoHo, at 29 Elgin Street. Check out their website and menu here, and tell them I said hello.
XOXO, 
Helen