January is Cervical Cancer Awareness Month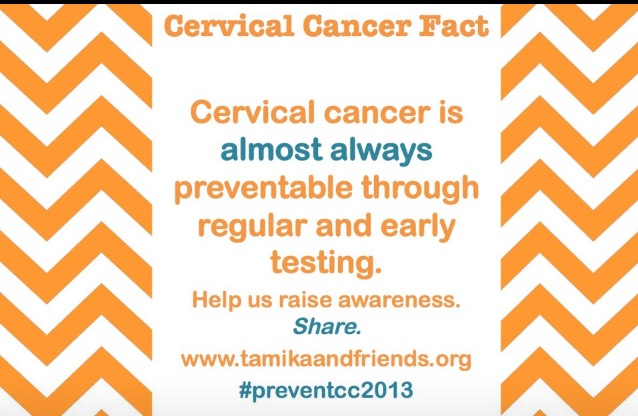 Imagine never being able to have a child not because you choose to, but because you were diagnosed with an advance cancer and need a hysterectomy. Or being happily married for some time and on a routine appointment with your gynecologist, find out you have cancer – caused by a sexually transmitted infection. Or how about needing to cut costs to make ends meet, so you cut your health insurance. Only to find out five years later when you finally go to see your gynecologist than you have cancer. These are the real life stories of women that were diagnosed with cervical cancer, women just like me and you, whose lives were turned upside down by cancer.
Cervical cancer is cancer of the cervix, which is the lower, narrow end of the uterus or womb. All women regardless of their sexual history or ethnic background are at risk for developing cervical cancer. Here's the quick and dirty rundown on everything you need to know about cervical cancer.
What causes it?
We don't know what exactly causes it, but we do know it's linked to the human papillomavirus (HPV). HPV is truly as common as the common cold. Chances are you've had it, and didn't even know you did. That's because for most of us it comes and goes away on it's own. For some women though, left unmonitored it can spiral out of control and develop into cervical cancer. While all women are at risk for developing cervical cancer, there are some lifestyle choices that can increase your risk including:
Having other STI's
Weak immune system
Cigarette smoker
What are the symptoms?
Here's the scary part, at first there really are no symptoms. It's not until the disease has progresses that women start to experience symptoms like:
Pain during sex.
Bleeding from your vagina that's not normal, or a change in your menstrual cycle that you can't explain.
What tests should I have?
Prevention and early detection always saves lives! There are two different types of tests used to screen for cervical cancer.
Pap test – Can find early changes in your cell and treat them before they become cancerous.    Detection of cervical cancer in the earlier stages by a pap test makes it easier to treat.
HPV test – Finds certain infections that can cause cell changes and cancer. Used along with a Pap test, it helps your doctor to decide how to treat women who had an abnormal Pap test.
There are also two HPV vaccines available (Cervarix and Gardasil) which are recommended for all teen girls through 26 years of age, and (Gardasil) teen boys through 21 years of age.
Here are the newest screening guidelines  implemented last year.
Women age <21 No screening
Age 21 All women should begin cervical cancer screening.
Age 21-29 Pap test every 3 years, HPV testing not recommended unless you have an abnormal Pap test result
Age 30-65  Preferred that you have a Pap test and a HPV test every 5 years, but you can also have the Pap test alone every 3 years
Age >65 If adequately screened in the past, screening can be discontinued unless you were diagnosed with cervical cancer or are at high risk for cervical cancer
If you have had the HPV vaccine, you should still follow the guidelines for your age group.
Sources:
Centers for Disease Control
Mayo Clinic
National Cancer Institute