Yes that was ME on Project Runway All Stars!
"Yes, that was ME on Project Runway All Stars" is what I've been confirming to old friends, ex-boyfriends and former colleagues of mine who have called me these past few days. 
A few months ago I was approached by Lauren from Match.com to see if I would be interested in going on a blind date on Project Runway All Stars. Crazy right? Even crazier is that at the time my Match.com account was closed. Have you ever dated online? Then you know that it is a job in itself, and I just didn't have the time to filter though all the winks and messages, so I put it on hold until I could give it the time it deserved. Imagine my surprise then when Lauren found me anyway.
She told me he was good looking, that he was actually a friend of hers, and could she send me a picture of him to see if I was interested. At this point I had mixed feelings because while I know some people who would jump at the chance to do anything on TV, that's not me. My personal life is a novela on it's own that would make for great TV, but I like to keep my craziness to myself! Anyways, after some reassurance from Lauren (who is amazing by the way), and seeing that my potential date was handsome, I was in!!
Fast forward to Day 1 of taping. In order to keep the surprise we were separated from each other. The girls (plus Bryce) were in one group, and the guys were in another. We were allowed to email and text our dates at this point, we just could not meet in person. It was fun getting to know my date Craig during this time who turned out to be just as charming as he was handsome.
The other daters.
The other two girls who I taped the episode with were Racquel and Becca. I have to admit that Becca confused me at first because she is just so over the top and I was trying to figure out if that's really her, or an act that she's playing to get more camera time. I'm happy to say that we're now on great terms, and I've gotten to know how wonderful she really is, and at a party we went to after taping, she got to see how messy and unhinged I can really be. HA! Racquel is a beautiful and funny aspiring actress whom I'm sure we'll see more of in the future. Bryce was this cute Australian who instantly makes you feel comfortable when you're around him, and became one of my best friends after taping – – more on that later!
Meeting our designers.
My designer was Sonjia Williams, a talented designer that I think may just win this season. She was very sweet, listened to what I said and made me feel comfortable throughout the entire process. We shared a few laughs like when she was measuring my bust and her eyes popped out, " yes girl use all the tape."
Later she and Dmitry (also very sweet) told me that they told Craig that," he would be very happy with my measurements!" HA! She asked me whose style I like, and the best way to describe it is sexy but still elegant like Sophia Lauren, Sofia Vergara or Kim Kardashian, or as you heard me say on the show, "Kim Kardashian with Kanye West, not Kim Kardashian with Ray J."
The date!
The date was at the Refinery Hotel lobby bar. Bryce and I were waiting (and drinking) at a nearby bar, while Tarek and Craig were being miked and the scene being set up for our dates.
We got the call to go, I said goodbye to Bryce and started making my way to Craig. As much as I have taped before, this is when the nerves really kicked in. This was me on a blind date. With a camera crew and hotel full of guests looking on. #AyDiosMio
I walk in and finally meet Craig yay! The date itself was pretty contrived and as awkward as you can expect when you have a mic and camera crew hovering over you, and people in the lobby staring at you and taking pictures. It was very short, maybe like 10-15 minutes?! I'm not disappointed that they edited most of it out!
Walking the runway.
My walk down the runway was amazing!! Yes I'm a former beauty queen, but hello I don't walk down runways everyday! We practiced a few times and then I just stopped over thinking it and walked like I always do. Head up, shoulders back, smile and shine bright like a diamond. Without even thinking at the end of the runway I gave a little pageant turn and look (must have been muscle memory HA) and heard Sonjia yell, "get it Helen girl." Loved it!!
Being critiqued.
Hearing critiques surprised me only because I was so in love with my dress that I thought I was going to win. It wasn't bad though, so thank you Alyssa, Georgina, Isaac and Laverne for being kind to us non-models. You didn't get to hear Isaac have fun with Craig and tease him that he was wearing a fake Rolex, and Craig correcting/dismissing him and telling him that it was very real ha! Alyssa Milano also said my cutout showed my abs/stomach which looked great – yay!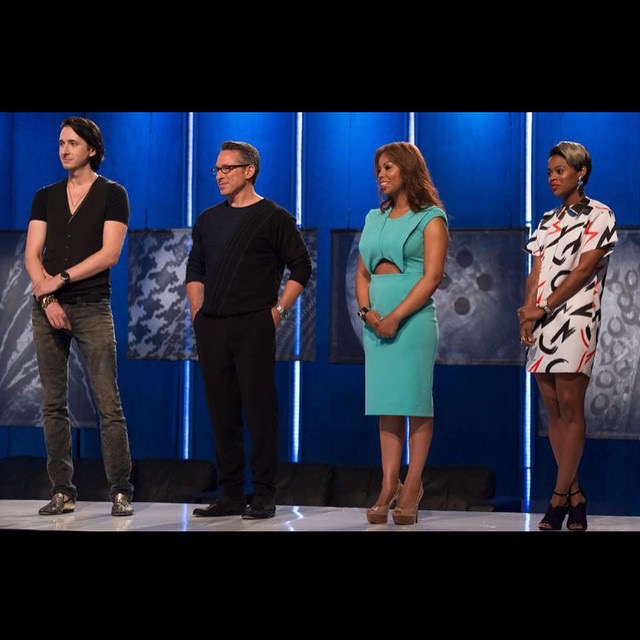 Some extras.
After the date happened we still taped another entire day. The designers had the chance to tweak the outfits (to fix any damage we might have done on our dates) before we taped the judges critiques and runway scene. We were all there in the design room and the changing room was a small closed off space in the back with someone who handles the shoes. Craig and I actually ended up changing together, so we might have flashed each other in our unmentionables (nice tattoo Craig by the way). But yeah, that was awkward!
The runway scene actually took about a million takes. You practiced, then walked down to no music, then to music, then with the judges in the room, then with a huge rolling camera right in front of you as you walked down the runway. We also had to hold our pose at the end of the runway for what seemed like forever. To silence. And everyone staring at you. Thank goodness I love to smile.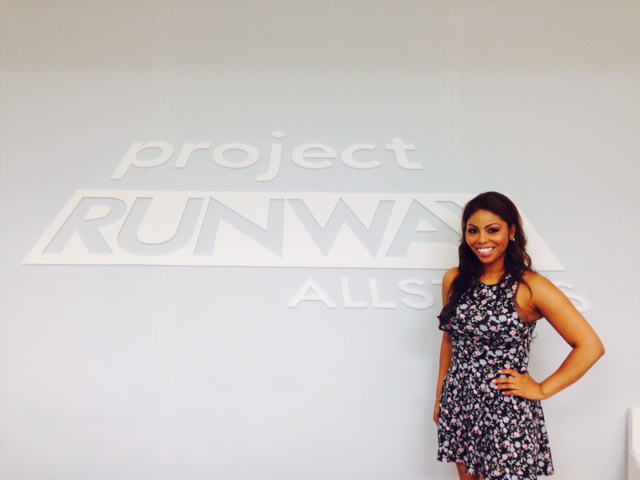 Also all you keyboard cowboys please be kind to the designers because they are working their you know what off!! While many things were taped over and over, the time they had to create our outfits was very real. I'll forever be in awe of their talent and what they can do in such a short amount of time.
Before I answer my most asked question, I wanted to thank Lauren from Match. Tara, Lisa and production from  Bunim-Murray who are all top notch, and last but not least Sonjia William and Dmitry Sholokhov. Each and every one of you made this an experience I'll never forget, thank you!
The most common question I get is if I'm dating Craig.
Sorry to disappoint you guys, but no I'm not. You know how it goes, it's not you, it's me. Well, it was. I was casually dating someone at the time and going back and forth with someone else, so mentally I just wasn't in the right place. Craig is truly a catch ladies, and the woman who he ends up with will be very lucky! He is a very successful and handsome man with a wonderful  personality. I'm glad that out of all the "couples" we have been able to remain friends.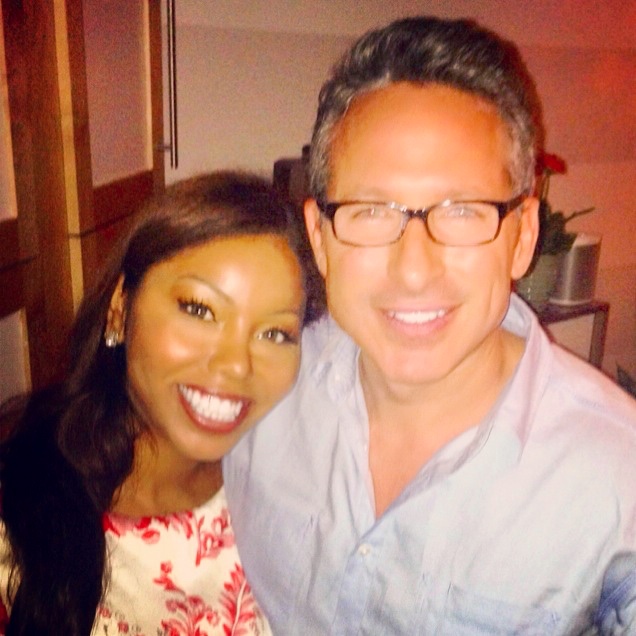 But before you cry (or not) for me and my roller coaster of a dating life, thanks to Project Runway and meeting Bryce, I'm now dating his best friend who I will call J! They grew up together in Australia so he has that Australian accent that I love, plus he just has the most amazing and kind heart!! I'm at the point in my life where I'm finally open to love again and so is he, and as fate would have it, we were brought together in this most unusual way. I took a chance and decided to let my guard down and the universe responded. So now as you are reading this, I'm on a plane heading to spend New Year's Eve with him in Mexico, ready to go on my first adventure of 2015.
Wishing you a happy, healthy and prosperous New Year!
XOXO Helen
P.S. Did you miss the episode? Watch it here!