All about the #savings – Spa Sonic Face & Body Polisher Review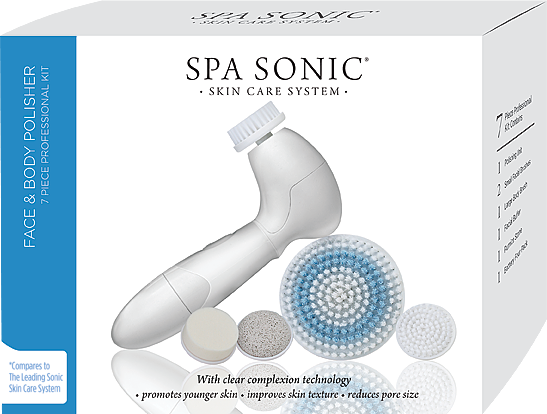 I'm all about saving money whenever possible so that I can continue to feed my ever-growing shoe & travel addictions. But when it comes to my face I don't mind splurging, well because, it's the only face I have! So if I can get something at a great price and it actually works –it's a winner in my books. This brings me to this cute Spa Sonic I recently got to review.
What It Is
The Spa Sonic is a face and body polisher that's waterproof, light-weight and easy to use. It comes with 4 different attachments.
 A small bristle brush to use with your favorite cleanser to exfoliate your face.
A small sponge brush to use with your favorite creams. This helps for a more even application (so you waste less product), and gives your skin a chance to really soak in your products when used after you exfoliate.
A large body brush to use with your favorite bath wash or soap.
A small pumice to help get rid of any rough patches of skin on your feet, knees or elbows.
Why It's Worth Getting:
Price! You can't beat the quality and number of attachments included for this price point.
Easy To Use. I'm the one that never reads instructions, and used to put together furniture in college without reading anything until the very end, and I always had that one, lonely, extra piece (ugh)! That won't happen with the Spa Sonic. It's a simple switch to put it on and off, and each attachment slides easily into place.
Great For Sensitive Skin. However as a rule you should always test anything that's going on your face on the back of your hand or neck. If you have a severe skin condition, open cuts, or use creams like Retin A, chances are this and pretty much anything will irritate your skin (my opinion). Just proceed with caution.
Easy To Clean. Because after all that cleaning of your face, you know you're too tired to actually clean the machine! Just soak your attachments in some soap and water, or your favorite cleanser and you're done.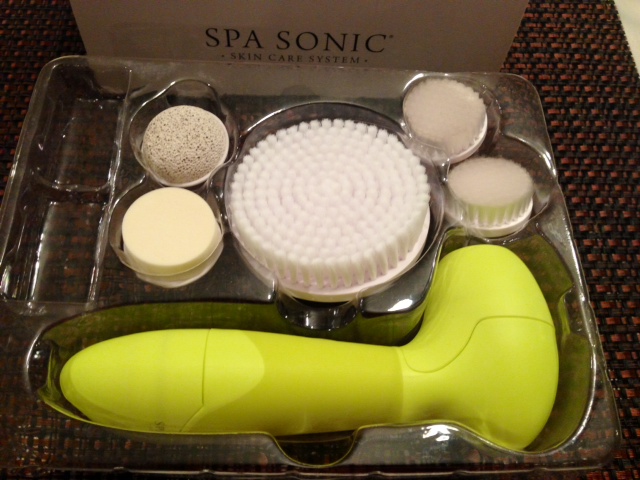 Don't Come Crying To Me, Here's Something To Consider aka The Cons:
Don't Press Too Hard. If you do it will stop, which is probably a safety feature, but I felt I could have maybe gotten an even deeper cleanse if it kept going. But then maybe that's the Type-A in me, always wanting more!
One More Thing:
You may have seen it compared to the Clarisonic, but don't do that! On the Spa Sonic website they even mention that when independent tests were performed, it compared comparably. But I think each device stands on it's own.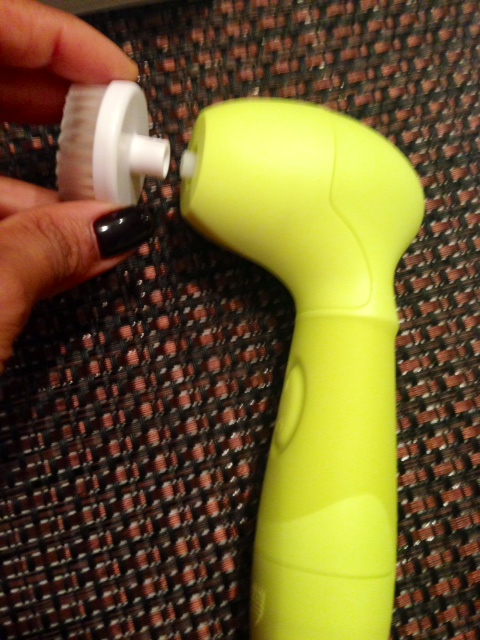 Overall the Spa Sonic is best used for those that are trying to get better results from the products their using and also to stretch the time in-between seeing their facialist. Whether you use expensive creams or not, using this machine in addition to your products will give you a better result than using them alone.
Interested in getting your own Spa Sonic? Visit their website and buy it here!
XOXO Helen
Disclosure: Although this is a sponsored post, all opinions (good and bad) are always my own!