I have to confess, I have never done the Black Friday shopping experience. I've watched my mom head out at the crack of dawn and go out on & some Hunger Game-esque expedition just so she can score some amazing deal.
Not me though. Hell to the no as the late Whitney Houston would say. My tired self likes to stay in my pajamas all day, watching Lifetime and catching up on some much needed sleep.
That is until my mom had to work for the first time ever on a Black Friday, and now I'm the one forced volunteering to be tribute.
I promise not to elbow, push nor shove anyone in my goal to score some discounted doll. So that I would have the stamina to last the endless hours on lines waiting to check out, I made this green juice. It's simple, delicious and will keep me far, far away from the evil Cinnabon mall stands.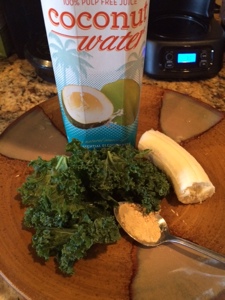 Black Friday Green Boost
1/2 banana
1/2 cup coconut water
1/2 cup filtered water
1 large handful kale
1 teaspoon maca
Mix all ingredients and blend well for 30-45 seconds.
Coconut water is low in sugar (as long as you stay away from those flavored types) and has more potassium than a banana. Potassium depletion is often to blame if you experience muscle cramping during exercise, and Black Friday shopping my friends, is a true test of physical and mental endurance.
I've talked about maca before and here's why you need to go out and but some already. It's a superfood from Peru that gives you that energy boost like a Red Bull, but without the calories or sugar. It does have a strong taste, which is why I threw in a little banana to totally mask the taste.
Seriously be safe out there, pull out every meditation tool you know out of your back pocket, and remember that it's only 354 days until you have to do this again.
XOXO Helen