Join me for the #FDFabulous New Year, New You Twitter Party with Family Dollar!
**Disclosure: This post is part of a campaign that I am involved with as a brand ambassador with Family Dollar. All opinions, reactions, and everything in between are always my own!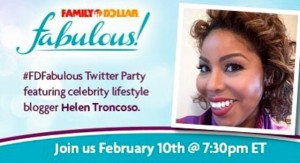 UPDATE 2/17/16: Thank you again for supporting the #FDFabulous hashtag and joining me for this recent twitter party. We had an estimated 9.4 million reach overall – amazing!!
Join me this Wednesday, February 10th from 7:30pm – 8:30pm EST on twitter as I join Family Dollar, Garner USA and Pantene for our "New Year, New You" twitter party!! It's the first #FDFabulous twitter party of the year, and we are so excited to share new beauty looks and trends that also fit in a reasonable budget, because we all want to be financially fabulous as well this year!!
I want to hear from YOU! Tweet me your best tips and any questions you may have.
Follow us on twitter:
@MsNYAmerica2012
@myFamilyDollar
@Pantene
@GarnierUSA
Don't forget to also follow the hashtag #FDFabulous! We'll have a few prizes that we are also giving away at the end of the twitter party right in time for Valentine's Day!!
XOXO,
Helen