Learning who belongs in our lives.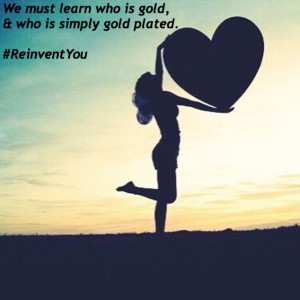 We must learn who is gold, and who is simply gold plated.
Learning who belongs in our lives, and who is just meant for a brief visit can be a lifelong process. I think as women there may have been times in our lives when we might have been dazzled by the flashy cars, smiles and personalities. It can take a few heartbreaks to learn that that is just not enough. Look deeper. Your life partner may or may not be the flashiest one, but look to see what their heart is like. How do they make you feel? Do they keep their word? Are they so in sync with you that you can't imagine what life was before them? Can you see yourself holding their hand and growing with them for years on end? That's what I was looking for, what I found, and what I wish for you all.
XOXO,
Helen