The importance of having #oneconversation.
Disclosure: This is a sponsored post for the Center for Disease Control (CDC) Talk HIV Valentine's Day campaign along with Latinos In Tech Innovation and Social Media (LATISM) and Social Lens Research. As always, all opinions are always my own!
The human immunodeficiency virus (HIV) has been found in the United States since at least the 1970s. Since then we have thankfully made many strides forward in our treatment options, but what has not changed as much as society has, is our attitude towards this virus. There is still a stigma attached. Communities, in particular Latino ones, still shy from discussing this within our social circles, and more importantly, within our own families.
The CDC says as a whole Hispanic/Latinos while comprising only 17% of the total population in the United States, account for 21% of the estimated 1.2 million people living with HIV and 23% of new diagnoses of HIV infection. As much as we may try to "sweep it under the rug" HIV has and will continue to greatly impact our community unless we stop the shame surrounding this virus and start talking more openly on ways to protect ourselves.
While there are a few different scenarios where one may become infected, one that I want to highlight is how those in a relationship, "pareja" or couple can still be at risk. I think for many of us once we have gone through the ups and downs of dating, when we find that special someone we understandably let our guard down. One important conversation we should have with our significant other though is our HIV status.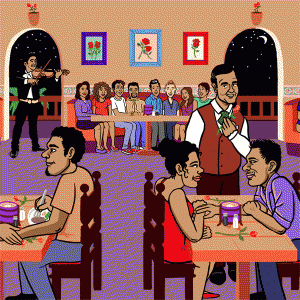 As mentioned earlier, treatment options today are so advanced that it is possible to carry on a relationship with an extremely low risk of infecting your partner by staying on treatment, making sure you have an undetectable viral load, and discussing HIV medicines that could further reduce your partner's chances of getting HIV. Having these conversations are necessary to keep each other not only healthy, but to build true intimacy and trust. It always seems scarier than it really is, and many couples where one partner is HIV positive are thriving!
For more information in English or Spanish visit the CDC's website here.
XOXO,
Helen