Lucky me, I finally got the flu!
Spring is finally so close, I can see it in the horizon, so naturally that means I finally got the flu. I thought I had it made. I survived crazy weather changes, hung around people who were sick, and even went out with wet hair (don't tell my Mama Juana). I somehow managed to escape getting the flu. Until now.
I think it was my extra heavy schedule these last two weeks that brought my immune system down enough to make me a nice, and juicy victim. I forgot how miserable having the flu was. I was dizzy, hot –then cold, feverish and able to stay awake in short spurts. I listened to my body, so that meant I actually stayed home for a day, but I've got people to treat and a business to run!! I'm finally feeling better to write this and answer some emails. Here's my amazing green juice recipe for you to try if you find yourself fighting the flu. It tastes great, is full of antioxidants, and won't spike your blood sugar like some other juices will.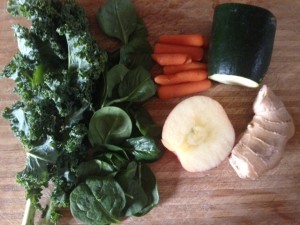 Mean Green Flu Fighting Machine Juice:
Note: I'm all about the "grab and go." Meaning I've got stuff to do in the am, and the last thing I want to pull out is a measuring cup if I can help it. So I just use my hands.
Serves: 1
Ingredients:
1 handful kale
1 handful spinach
1 small handful carrots
1 palm-sized celery stalk or cucumber
1/2 apple
1 thumb-size piece of fresh ginger root, peeled and chopped
Enough water to cover the bottom of your juicer.
Put all ingredients through your nutribullet or juicer and blend well. Drink right away.
Wishing you all a happy and healthy week!
xoxo Helen