What you drink matters! #2BSparkling
This is a sponsored post with 2B Drinks, but I only give my full and honest opinion for all reviews.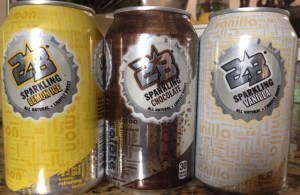 Did you used to chug diet soda like I used to, thinking that you were doing something good for your body? Only to find out months, or years later that you were actually harming it, and probably making yourself fat?! I know I was super upset when I found out that any just about any drink with the word "diet" in front of it, was actually making me hold onto the weight I was working so hard to lose.
I love water, but every once in awhile I need something that will quiet my craving for something sweet or soda – like sparkling water. It gives you that "fizz" and "snap" that I missed with diet soda, but without all the harmful sugars and ingredients you can't pronounce.
How much of a difference are we talking about? A regular can of soda has about 39 g of sugar. 2B Sparkling has only 8 g of sugar and 30 calories per 12 oz can.  The taste is also a big deal, because let's be real, if we're going to replace something, it had better be good enough that we forget what we're missing! 2B Sparkling is great and doesn't have that aftertaste that some other flavored seltzer waters have. It's sweetened with Purefruit, a zero calorie sweetener made from monk fruit which has been used for thousands of years to help treat obesity and diabetes. For my mom friends, 2B has also been approved by the NYC Department of Education. Now your kids have another beverage to choose from that's affordable and better than soda and other drinks loaded with calories and sugars.
I don't recommend many things, but this I do and I want to give you and your family a chance to try these healthy bubbles for yourself. I'm giving away a case to one lucky person who lives in the Tri-state area this Friday, and all you have to do is enter with your email below. Don't live in the Tri-state area but still want to try it out? You can get it from Amazon and lucky you, shipping is free!