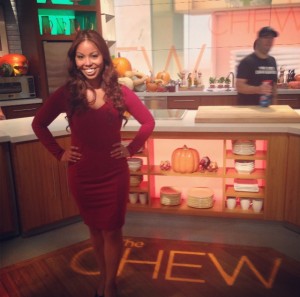 A few weeks ago I got a call to see if I wanted to go on The Chew and compete in their version of the TV show "Shark Tank" called, "The Chew Tank" or "The Turkey Tank" as my segment was called because we were going to do a turkey cook off!!
I'm not a professional cook at all. I'll probably tell you after a few glasses of Prosecco that I once burned water on the stove (don't judge me). Besides that one (or two) times that I did that, I learned how to cook as good as any (future) housewife-in-training. My Mama Juana is proof that you don't need some fancy education, or a ton of money to whip up the most delicious meal that will satisfy even your pickiest eater.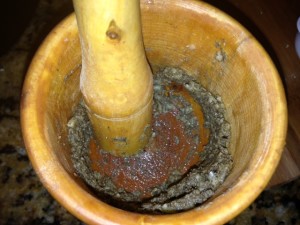 Ask any Latina from the Caribbean what's the secret to her stews, beans and sauces, and she'll probably tell you it's her sofrito. It's this intoxicating concoction of onions, peppers, culantro, capers, and ajies dulces. My mom makes it in a pilon (mortar and pestle), but you and I can make it in a food processor.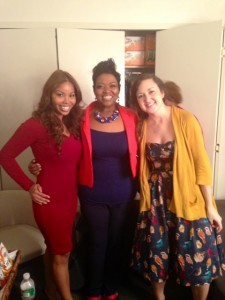 So when I was asked if I had a turkey recipe for The Chew, I knew sofrito was going to be my secret weapon! The whole experience was amazing, and I think the staff there was probably some of the friendliest that I have ever worked with before. The other two women who joined me in the tank, Deena and Anna, were so nice! We got our hair and makeup retouched, took a quick tour of the set, practiced our pitches and before you know it – there we were for all of America to see!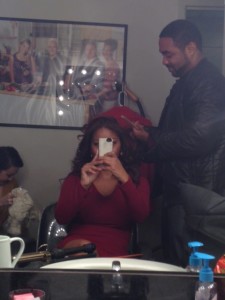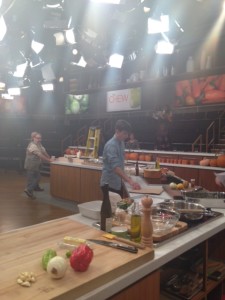 I didn't win (boo) but, Mario Batali did say my turkey was "muy sabroso." That kind of blew my mind because this is my mom's simple recipe, and here we have this renowned chef praising it. Amazing.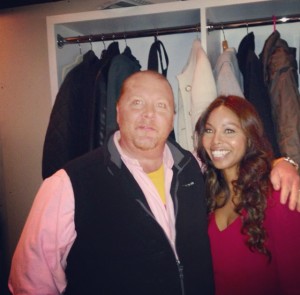 Want to see my pitch? What would you have said?

Here's my Mama Juana's Turkey con sazon recipe, enjoy!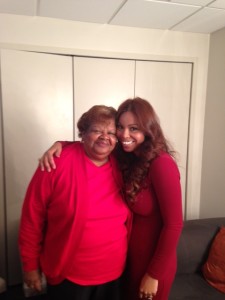 First you want to make sure you clean your defrosted turkey very well inside & out with the juice of 6 fresh lemons or limes or both, and 6 tablespoons of vinegar. Put it to the side while you make your marinade.
Marinade:
10 cloves of garlic
1/4 cup olive oil
Salt to taste (you can make without)
1 tablespoon black pepper
7-9 leaves of oregano
4oz or 2 bunches of parsley
1 package of sazón with culantro and achiote
1/4 cup fresh sofrito (recipe below)

Sofrito:
1 large yellow onion
1 pimiento (Cubanelle)
1 red bell pepper
2 tablespoons minced garlic
1 bunch or 2oz of cilantro
12 ajíes dulces (small peppers typically found in Caribbean supermarkets)
6 leaves of recao or culantro (cilantro's sexy cousin)
1/4 cup Spanish olives, pitted
1 tablespoon capers
2 teaspoons salt (as my mom would do, but I skip it)
1 tbsp black pepper
1 tbsp crushed orégano
1/2 cup olive oil
Wash, peel, seed and coarsely chop everything and then put in your food processor or blender and puree until you get a mixture that's still got some body, almost like a greener and lumpier pesto. Leftover sofrito can be frozen and used later. A great way to do that is to put it in an ice cube tray. That way when you're making your beans or stews, you can pop out one or two cubes of sofrito and call it a day!
Take your turkey and randomly puncture holes throughout your turkey. Next, massage your  marinade all over and deep into the holes you just made. Show your bird some love because after all, it's going to feed your familia and will certainly be the showstopper of your Thanksgiving feast.
Let those flavors develop by letting it rest overnight in your refrigerator.
The next day take your turkey out, and if you happen to have some leftover sofrito, massage that in again. When I see my Mama Juana doing it, she uses about 1-2 handfuls. Take 4 pats of butter and massage that in also. For all you health-conscious people, you can certainly leave this out. It just helps to add the extra brown, crispy skin but will still taste great without it.
Put your turkey in a pan and pour yourself two generous glasses of wine. One to pour over your turkey, and the next one is for you because if it's like what goes on in my family – you'll need it!
Cover with aluminum foil and place in your preheated oven at 350 degrees. Halfway through, remove the foil and make sure to baste about every 40 minutes. Check the temperature to make sure it's cooked through (165 degrees F at the thigh).
Let it rest before you carve it up, I'm sure the natives should be restless by then.
From my family to yours, I hope you love it. Have a happy and healthy Thanksgiving!
xoxo Helen