Why do you want to be fit?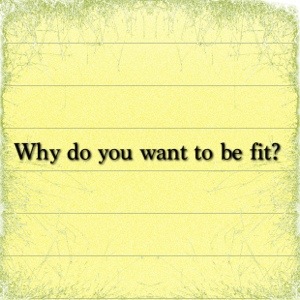 That's one of the first questions I ask anyone who comes to me for help. You want to get fit, be healthier and probably lose some weight during the process, right? However, have you stopped and asked yourself why? Why now? Since I'm constantly reevaluating and updating my own personal short-term and long-term goals, it's also a question I ask myself constantly.

Here were five personal reasons why I wanted to be fit a few years ago.
1. I don't want to die young.
Heart disease runs on my mother's side of the family. We've unfortunately lost a few family members in their 40s, and I didn't want to be next.
2. I'm tired of pretending I'm happy with the body I have.
At my biggest I was a size 14, at my smallest a 0. A few years ago I probably wavered between a size 6 and an 8. Again, nothing wrong with being that size, but it didn't fit me. Plus I wasn't a solid or fit size 6-8. Because I was doing unhealthy things to quickly lose weight, I was still flabby, and with a muffin top aka chichos, to boot!
3. I'm tired of drinking RedBull and 5-Hour energy drinks to stay awake.
I always knew they were unhealthy. I even read the articles, and watched the news clips about people dying from drinking too many of them, and yet I still guzzled them down in a feeble attempt to stay awake. It was a viscous cycle of not eating healthy, being stressed out, and then drinking so-called energy drinks to stay awake.
4. I hate feeling out of breath doing my everyday activities.
Again, I wasn't terribly out of shape, but if I had to run to make a class, catch a train, or climb a flight of steps, like when I would take my laundry basket from my basement to my bedroom, I could do it, but then I would be totally out of breath. I was tired of pretending that I didn't feel my chest tightening and hear my heart pounding doing these very simple things.
5. I want more from my life.
That was something I wrote down years ago, and something I still want today. It's part of the never-ending growing process I guess. I knew being fit had something to do with this life I envisioned for myself, and now I definitely know that's true.
So my question to you now again is, why do you want to be fit? Research shows that we are more likely to follow through with our resolutions, or goals when they have a personal meaning to us, versus making goals to impress other people. What's your motivation? How badly do you want it? Write it down and keep it in your purse or wallet. When you start feeling a little, "woe is me" when you've had a bad day and you want to give up, whip it out to remind yourself exactly why you started in the first place. Someone once said; "intention without action is useless". The days and years will pass anyway, why not start today creating a better future, and life for yourself today.
Happy Motivation Monday,
xoxo Helen