Up late last night? Try this energy boosting green juice!
It happens. You stayed up late the night before finishing a huge project, or maybe you went out with the girls and had one too many skinny girl margaritas. Well guess what, you're a grown woman now and gone are the days where you can just lounge in bed the next day and miss all your classes. It's time to get up and get moving, and here's the energy boosting green juice for you!
Here's what you will need:
1 large handful kale (or spinach)

1 tablespoon cinnamon
1/2 avocado
1/2 cup unsweetened almond milk
1/2 cup filtered water
I always love to use plants with the deepest green color like kale or spinach, because they'll give you more energy than say a romaine or iceberg. Also, being tired means your body needs some fuel, and what's a better source of fuel than fat. Avocados are a great source of natural fats that we need to ingest everyday. Almond milk is a safer option for those who may have certain food allergies or intolerances to regular cow's milk. It's low in calories and heart-healthy but, just make sure you go with the unsweetened versions to avoid any unnecessary sugars in your diet. I also added cinnamon because it not only helps to increase your energy, it increases your circulation which in turn help to speed up the body's natural healing process, and it helps to lower your blood sugar.
Put in your magic bullet, nutribullet, vitamix or whatever you use to make your green juices and blend well for about 1 minute. The timing may vary depending on your machine, or the consistency you're going for.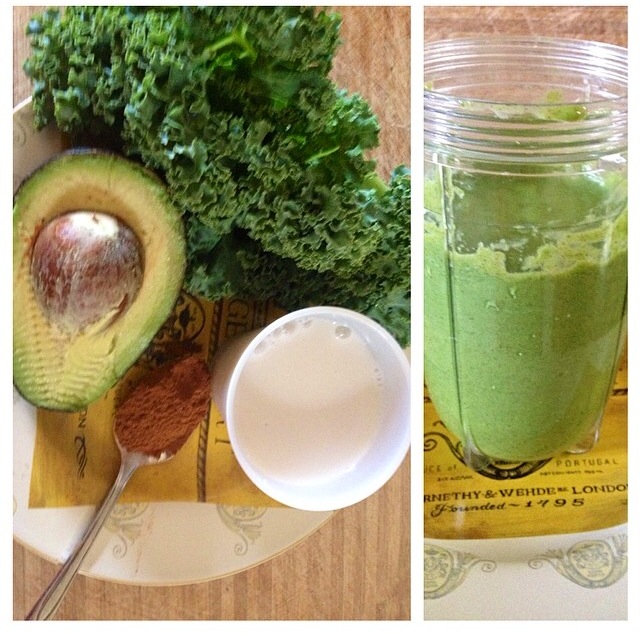 Buen provecho!
XOXO Helen