Bye, bye bloat green juice!
I hope you had a wonderful Memorial Day weekend! I spent it with some loved ones, checking out wineries in the South Fork of Long Island. If you've never been it makes for a wonderful day trip. We checked out Wölffer Estate and Channing Daughters. My tip is to hit Channing Daughters first, and then relax with some great wine and cheese while overlooking the vineyard at Wölffer. There's just no way you won't feel the stress of the city melt away, and you might even jump for joy kinda like this.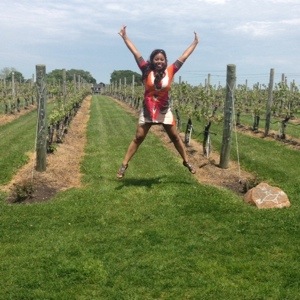 Back to the green juice. A #ReinventRule is that it's ok to indulge every once in awhile, but, it's not ok to make every day a cheat day (yes I'm talking to you). This is a great juice to drink when you're coming off of a vacation, or a long weekend to help get you right back on track.
Here's what you will need:
1 large handful dandelion
1 large handful cucumber peeled
1/2 fresh lemon juice
1 small handful of celery
1/2 cup filtered water
Optional thing you can also throw in is 1 small handful of fresh cilantro
Put it all in your magic bullet, nutribullet, vitamix or whatever you use to make your green juices and blend well for about 1 minute. The timing may vary depending on your machine, or the consistency you're going for.
I'm not going to lie to you, this one is a little rougher than some of my other juices. But, it's way better than those basura over the counter water pills.
Dandelion is a natural diuretic that helps to cleanse your body and assists in weight reduction. It's also a great source of beta-carotene which we convert to vitamin A which is good for the skin, mucous membranes and vision.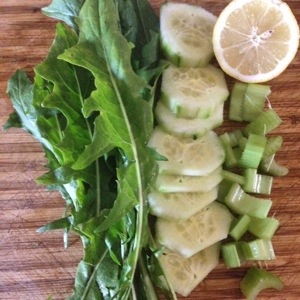 Buen provecho!
xoxo Helen