Women, stress and balancing it all + Giveaway Rules #GoRedLATINO
Disclosure: This is a sponsored post as part of a campaign with the American Heart Association. As always, all opinions are always my own!
I love New York and will always be a "city girl," but the work culture here for the most part is like the Rihanna song, "work, work, work." If you have time to breathe then apparently you're not doing enough! Not getting enough sleep because you're so busy is something people are proud of. Being stressed out seems to be a way of life. We've been led to believe some or all of this is normal, but it's not true. Several studies and medical opinions have pointed out the obvious, that it's not healthy and can have serious consequences, like heart disease, stroke and even death.
As women we tend to take on too much. We overextend ourselves sometimes daily to our own detriment. We make sure our parents, friends and children make and go to their health checkups, and then we forget to schedule our own. As a new mom, I get it. I am experiencing a love so deep it hurts to even imagine anything going wrong with my son. I want to be there and protect him every second of the day, but I have to remind myself also that it's ok to take 30 minutes just to myself everyday. I know if I'm not healthy, I'll be of no use to him or anyone else. As much sense as that makes, I still struggle to find balance. The more I talk to other women and moms online, the more I learn I'm not alone, and that we all need help taking care of ourselves and not feeling guilty doing so.
Let's talk about this and more at the #GoRedLatino twitter party!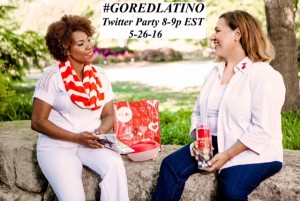 I hope you will join me on Thursday, May 26th at 8pm EST on twitter for our special #GoRedLATINO twitter party! Let's discuss all of these points and more. We have three amazing blogger co-hosts Eileen Campos, Elayna Fernandez and Maria Castro. We are also joined by three special co-hosts, Dr. Johanna Contreras, cardiologist at Mount Sinai Hospital in New York City, Mariela Dabbah, award-winning founder of the Red Shoe Movement, and fitness expert and author Josette Puig, I am also giving away a few goodies throughout the twitter party, because who doesn't like a giveaway!!
Xoxo,
Helen
Official Rules
NO PURCHASE NECESSARY TO ENTER OR WIN. A PURCHASE WILL NOT INCREASE YOUR CHANCE OF WINNING.
DATES OF SWEEPSTAKES: The "Go Red LATINO" (the "Sweepstakes") begins at 8:00 p.m. Eastern Time ("ET") and ends at 9:00 p.m. ET on May 26, 2016 (the "Sweepstakes Period").
ELIGIBILITY: The Sweepstakes is open to legal U.S. residents residing in the United States and the District of Columbia, who are at least eighteen (18) years of age or older at the time of entry (the "Entrant").
TO ENTER: To enter via Twitter®, join the Twitter® party by using hashtag #GoRedLATINO (the "Hashtag") in order to receive one (1) entry into the Sweepstakes. Entrant will receive one (1) entry for sending a tweet during the Sweepstakes Period inclusive of the Hashtag Account (the "Entry"). Limit of one (1) Entry per Entrant during the Sweepstakes Period. Entrant's Twitter® account must be set to "public" in order to receive one (1) Entry in to the Sweepstakes. If the Entrant's account is not set to "public", the Sponsor may not be able to view the Entry, and the Entry will not be eligible to win.
This Sweepstakes is in no way sponsored, endorsed or administered by, or associated with Twitter®. Entrants understand that the information being provided at point of entry is being provided to the Sponsor solely, and not to Twitter®.
WINNING: There will be two (2) random drawings held on or about May 26, 2016. For the drawing, two (2) prize winners (each, a "Prize Winner") will be selected at random from among all eligible entries received during the Sweepstakes Period. Odds of being selected as a Prize Winner depend upon the total number of eligible entries received during the Sweepstakes Period. The random drawing will be conducted by the Sponsor whose decisions are based upon their sole discretion and interpretation of these Official Rules and are final and binding in all respects.
NOTIFICATION: The potential Prize Winners will be notified by the Sponsor within five (5) business days of the random drawing (the "Notification"). Notifications will be sent via Twitter® to each potential Prize Winner. Upon Notification, potential Prize Winners will be required to submit to Sponsor, their complete contact information (including his/her first name, last name, address, city, state, zip code, and date of birth) for Sponsor to verify eligibility and ship the respective Prize (as defined in the "Prizes" section below). Sponsor will make two (2) attempts to reach potential Prize Winners via the Notification. In the event the Sponsor cannot reach a potential Prize Winner via the Notification after two (2) attempts have been made, or if it is determined by Sponsor, in its sole discretion, that a potential Prize Winner is not eligible in accordance with these Official Rules, an alternate Prize Winner will be selected at random from among all remaining non-winning eligible entries received during the Sweepstakes Period. In such case, the alternate Prize Winner will be notified as outlined above. The Prize Winners will each receive their respective Prize (defined in the "Prizes" section below) within six (6) to eight (8) weeks from the date in which the verification via the Notification is complete.
PRIZES: One Prize Winner will be awarded a gift card from Macy's. The total Approximate Retail Value ("ARV") of this Prize is $50. One Prize Winners will receive a Fitbit, the total Approximate Retail Value ("ARV") of this Prize is $70. There will be a total of two (2) Prizes to be awarded for this Sweepstakes.
The total ARV of all Prizes to be awarded in the Sweepstakes is: $120. No substitution or cash alternative will be provided for any Prize. Sponsor will not replace a lost, mutilated or stolen Prize. Sponsor reserves the right to substitute a Prize with a prize of comparable or greater value if Prize should become unavailable for any reason. Prizes are not transferable prior to award. The Prizes consist only of the items specifically listed as part of the Prize descriptions.
Gift cards are subject to the terms and conditions of the gift cards themselves. The Prize Winners consent (and agree to sign any additional documents required by Sponsor to formalize, effect or perfect such consent, except where prohibited by law) to Sponsor's use of his/her name, likeness (photograph and/or video), biographical information, and voices in advertising/publicity/trade without compensation, notice or approval; and, each Prize Winner disclaims any ownership rights of such advertising/publicity/trade material. No more than the number of Prizes set forth in these Official Rules will be awarded. Limit of one (1) Prize per person/household.
GENERAL CONDITIONS: Should any portion of the Sweepstakes be, in Sponsor's sole discretion, compromised by virus, worms, bugs, non-authorized human intervention or other causes which, in the sole discretion of the Sponsor, corrupt or impair the administration, security, fairness or proper play, or submission of entries, Sponsor reserves the right, at its sole discretion, to cancel, terminate, modify or suspend the Sweepstakes and conduct the Sweepstakes in a manner which in its sole discretion is fair, appropriate and consistent with these Official Rules. Notice of such action by Sponsor will be posted to the Family Dollar Twitter Account. In such event, Sponsor reserves the right to award the Prizes at random from among the eligible entries received up to the time of the impairment. Sponsor reserves the right in its sole discretion to disqualify any individual it finds to be tampering with the entry process or the operation of the Sweepstakes or to be acting in violation of these Official Rules or in an unsportsmanlike or disruptive manner. Sponsor reserves the right to disqualify or reject any incomplete, inaccurate or false entry. ANY ATTEMPT BY ANY PERSON TO DELIBERATELY UNDERMINE THE LEGITIMATE OPERATION OF THE SWEEPSTAKES IS A VIOLATION OF CRIMINAL AND CIVIL LAW, AND, SHOULD SUCH AN ATTEMPT BE MADE, SPONSOR RESERVES THE RIGHT TO SEEK DAMAGES FROM ANY SUCH PERSON TO THE FULLEST EXTENT PERMITTED BY LAW. SPONSOR'S FAILURE TO ENFORCE ANY TERM OF THESE OFFICIAL RULES SHALL NOT CONSTITUTE A WAIVER OF THESE PROVISIONS.
RELEASE: By participating in this Sweepstakes, Entrants agree to release and hold harmless Sponsor, Twitter, Inc., and each of their respective officers, directors, managers, employees, parents, subsidiaries, affiliates, agents, members, shareholders, insurers, servants, divisions, predecessors, successors, representatives, distributors, advertising, promotion, and fulfillment agencies, including the Independent Administrator, consultants and legal advisors (collectively, the "Released Parties") from and against any claim or cause of action arising out of participation in the Sweepstakes or receipt, redemption or use of any Prize.
LIMITATIONS OF LIABILITY: The Released Parties are not responsible for: (a); unauthorized human intervention in any part of the entry process or as it pertains to the Sweepstakes; (b) electronic or human error which may occur in the administration of the Sweepstakes or the processing of entries; (c) any injury or damage to persons or property (including but not limited to Entrant's wireless device, or mobile phone, if applicable) which may be caused, directly or indirectly, in whole or in part, from Entrant's participation in the Sweepstakes; (d) any printing or typographical errors in any Sweepstakes-related materials (if applicable); (e) stolen, lost, late, misdirected, corrupted, incomplete, or indecipherable entries or the unavailability or inaccessibility of any transmissions, telephone, wireless device carrier networks or Internet Service (as applicable); (f) technical failures of any kind, including but not limited to the malfunctioning of any computer, mobile device, cable, network (including Entrant's particular wireless device carrier network), hardware or software; (g) Entrant's inability to connect to his/her particular mobile device carrier network for any reason, including due to poor carrier reception and/or signal strength at any particular location (if applicable); and (h) the unavailability or inaccessibility of any transmissions, telephone, wireless device carrier networks or Internet service. All federal, state and local regulations apply.
WINNER'S LIST/OFFICIAL RULES REQUEST: For the name of the Prize Winners or a copy of these Official Rules, please submit an email no later than June 26, 2016 to [email protected] (please specify "Winners List" or "Rules Request" on the subject line of the email).
SPONSOR: Helen Troncoso
This Sweepstakes is in no way sponsored, endorsed or administered by, or associated with Twitter®.
Twitter® is a registered trademark of Twitter, Inc.